Some of you might not be aware of this, but the name of this blog is about to become a bit more relevant. After around 8 years of living in rented accommodation, I'm finally able to afford to buy my own home. I'll cover that more closer to completion, but the short of it is that I bought a Saarinen style tulip table (inspired by his Pedestal collection) and now I need some chairs to go with it.
The table I bought was secondhand (pictured left), originally from IKEA – a budget alternative to a more bespoke designer replica or vintage original. I paid £5 (under 6 euros/dollars) and it's scuffed pretty bad, but the normal sale price is still good value at £129.
An upside of buying something that is mass-produced and distributed globally at such a scale is that there's no shortage of inspiration for how to decorate it – on Pinterest, Instagram, or other sites. One recurring theme was paying homage to the original collection and having a unibody chair without multiple legs. Whilst there is a specific 'Tulip Chair' that would match this, it's expensive to buy and with the bright colours available it does still feel a bit boxy for the small space that I'll be moving into (though the stool version looks okay, and I did find a good deal here).
Spotlight: The Pedestal Collection
Eero Saarinen was a Finnish-American architect and designer. Declaring that the undercarriage of furniture made an 'ugly, confusing, unrestful world' he announced his intention to 'clear up the slum of legs' and make chairs and table one united object. Produced in the mid-20th century under Knoll Design, the collection was a commercial success and saw numerous design awards. Summarising the design inspiration succinctly, Eero said: "We have chairs with four legs, with three and even with two, but no one has made one with just one leg, so that's what we'll do."
I decided to consider another famous chair, this time by designer Verner Panton. A Danish designer who was much more focused on interiors, he created futuristic designs in bold palettes and materials. This chair was light, unique looking, stackable and the design was hard-wearing.
Choosing the Panton chair also opened up the possibility of finding something in yellow (pictured), which is such a brightening colour that works well with my style given that most of my furniture is either muted (whites and greys) or in a mint green style that is quite complementary.
Two weeks later and I'm still searching for the perfect Panton chair. Essentially I ran into some difficulties. Firstly, the price seems to vary quite widely, with no indication given of quality. Second, there are a few second hand replicas available online but it's hard to organise collection when you a) don't have a car, and b) are talking with a real person over a business.
So my first thought was to buy from a real company that can deliver a brand-new replica: I searched on Google for Panton chairs and found quite a few results for under £100 each. I had my eyes set on a site that offered one with free delivery for under £40 with 70% off the normal price – and they had my colour! Unfortunately it looked like something was off when I found a similar but different site that had the same chair for the same price and discount. I looked at the terms and conditions of each website and found that they were identical. After searching the two company's names together online I found a litany of bad reviews alleging a scam. I can't speak for my own experience because I have decided not to order from them, but I am going to avoid Myfaktory and Privatefloor in the future. If this Mumsnet thread isn't bad enough, there are some very unfortunate stories on TrustPilot too. So the cheapest options to buy new online are gone, and I'm slightly less trustful of the other sites that are offering these chairs cheap. Although Pash Classics, which does have the Panton chair in yellow at the slightly pricier £59, does seem reliable.
I also found two second hand white Panton chairs through Facebook Marketplace for £20 each, if I could collect them from South London – which isn't too much of a journey for me. Unfortunately, after initially sharing information, the seller hasn't been particularly responsive recently so I'm not sure if this is going ahead or not.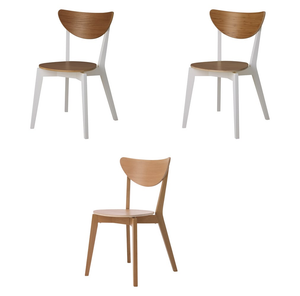 Whilst all of this was happening, my mum reminded me that I do actually own a dining chair already that she has been storing at her house – a Nordmyra IKEA chair that is actually quite stylish (pictured right). I have the unpainted wood version on the bottom which is now unfortunately out of production and I'm not sure whether to use other variants from the same set, buy a whole new set, or mix and match. So now I'm back at square one.
The building won't be finished until at least November anyway, so I have time. More updates to follow.